stan Tzara Utarid Veloz Violent Breakfast Vorwaerts Schoener We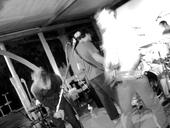 Band Members
Na-Babbo: Bass Guitar
Che-la: Vocals & Keys
Uilchiar: Drums
Ri-Botta: Guitar
Gneo: Guitar
Purchase from RWP
violent breakfast - nient'altro che tempo 12"
Violent Breakfast, from Pisa, Italy, unleash nothing short of measured fury and adrenaline. They blazed their way through the UK in August 2006 with a kick ass tour, returned home to hit the studio and release their debut full length 'Nient'altro che tempo' . Fans of fast emotional punk like La Qui...
violent breakfast / pyramids - split 10"
intense and obscure hardcore screamo with strong postrock influences for both bands. the first from the usa and the second from italy, deluxe packaging, awesome music.
Buy stuff from Violent Breakfast
About
Violent Breakfast is a 5-piece post-hardcore/screamo band from Pisa, Italy. The band played together from 2003 to 2008
http://www.myspace.com/violentbreakfast
RWP Releases

RWP 022
--------------
Emo Apocalypse Compilation 12"
with
a lot of other great bands