Latest News February 2020
my beloved punks and friends!
here are some news to get your through the rest of the winter and
looking foward to spring and summer i hope!
REPUBLIC OF DREAMS recorded 4 new songs for a split with ALLES BRENNT
(https://allesbrennt.bandcamp.com/album/split-w-republic-of-dreams) .
feel free to preorder your copy and get a REPUBLIC OF DREAMS early
splits compilation cd or the split 7" with AUTARKEIA for free to your
order! REPUBLIC OF DREAMS are also still looking for a show in southern
germany for the 17th of april - if you can help out get in touch!
the repress of FLUORIDEs debut 12" disentanglement is in now . sweet
fancy coke bottle green vinyl for you nerds out there :) . overseas
punks get this from the band or NERVE ALTAR in a couple of weeks!
as most of you know by now - last CRY ME A RIVER is sold out already. it
is the same conflict as most of the times : keep the atmosphere vs
access for everyone . and since we always aimed more at a gathering of
friends rather than beeing a bigger festival - we didn t want to break
with it on the last party. we have a list of people that would be
interested in being part if someone else can t make it ( a reservation
reservation list ;)) - let us know if you want to be put on that list.
distro is updated and we ll offer you a 10% discount until 1st if march
to help you brighten your mood in these dark and stormy days.
you are welcome
love x
view all news
New Distro stuff
republic of dreams / alles brennt - split 7"
preorder incl autarkeia split 7" or early disco cd

endless swarm - imprisoned in skin 12"
Brand new album from Scotland's finest Grindviolence Quartet Endless Swarm! "Imprisoned in Skin" is their first LP and it is an absolute monster! 19 tracks of blistering, filthy, ungodly fury that is sure to please! Let's kick this adventure off by taking the time to drink in the cover art. ...

fluoride - disentaglement 12"
repress of this harsh grindcore noise beast. think acrid, full of hell and some tiny bits of ampere or bucket full of teeth. coke bottle green full on capitalist vinyl :)

for your health / shin guard - split 12"
Originally released digitally in May 2019, two of North America's up and rising screamo darlings put out a fantastic split record, which is now getting its proper vinyl release. We have For Your Health from Ohio contributing five both beautifully and spazzy crafted tracks. On the flip side Pennsylv...

frail body / infant island / massa nera / dianacrawls - split 12"
Here we have four of North American's top underground screamo acts: Frail Body, Infant Island, Massa Nera and Dianacrawls teamed up to deliver this awesome 4-way split record, titled "Hymnes aux désarrois de la peau".

hetze / dismalfucker - split 12"
Hetze: Savage hardcore punk attack from Belgium, inspired by early UK hardcore punk (Health Hazard, Ripcord) with a Japanese touch (Gauze), some powerviolence (Despise you, Infest) and some new stuff like Hoax, Game, Exit Order, Sect Mark. Dismalfucker: this German powerhouse blends straight up ...

travolta - in tinnitus we crust 12"
Debut full length! Started out as a Powerviolence/d-beat band but evolved by adding more grindy parts. Influenced by powerviolence, grind, HC/punk and even some emoviolence in the newer songs. Very outspoken on and off stage...

auszenseiter - misere 12"
Misère" is the debut album from the German hardcore-punk band Auszenseiter. After their split record with Marais, Auszenseiter are back with ten raw and abrasive hardcore-punk songs. Giving their tracks also a slight edge of metallic neo-crust, Misère is recommended for fans of Alpinist, Jungbl...

chavire - Maintenant Que Les Flammes Sont Partout 12"
An explosion of emotions and rebellious punk poetry that is Nantes' band Chaviré, they come back with a brand new record. Part of the beauty that makes Chaviré's sound so fascinating comes from their ability to make uplifting punk music in a time of desperation and despair. When there's not...

coma regalia - Vau Faelgoh 12"
The fifth full-length from prolific Indiana screamo outfit Coma Regalia, Vau Faelgoh joins a discography that includes 30+ releases. 11 short, fast, and cathartic screamo songs that further cement the band's place as one of the genre's torchbearers.

coma regalia - the mirror 11"
With echoes of the band's previous work and obvious late 90s / early 00s inspirations, COMA REGALIA captures the deepening of screamo's sound over time. Some might say the production feels a little undercooked, but it's certainly not something you can charge a real screamo act with. "The Mi...


enter the RWP Distro
LATEST RELEASE RWP0100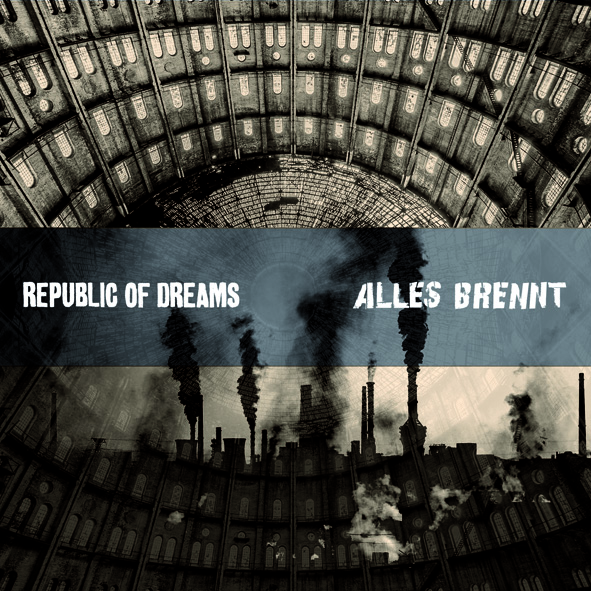 republic of dreams / alles brennt - split 7"
view all releases