| | | |
| --- | --- | --- |
| aureole of ash | dead bodies shirt | 10.00 € |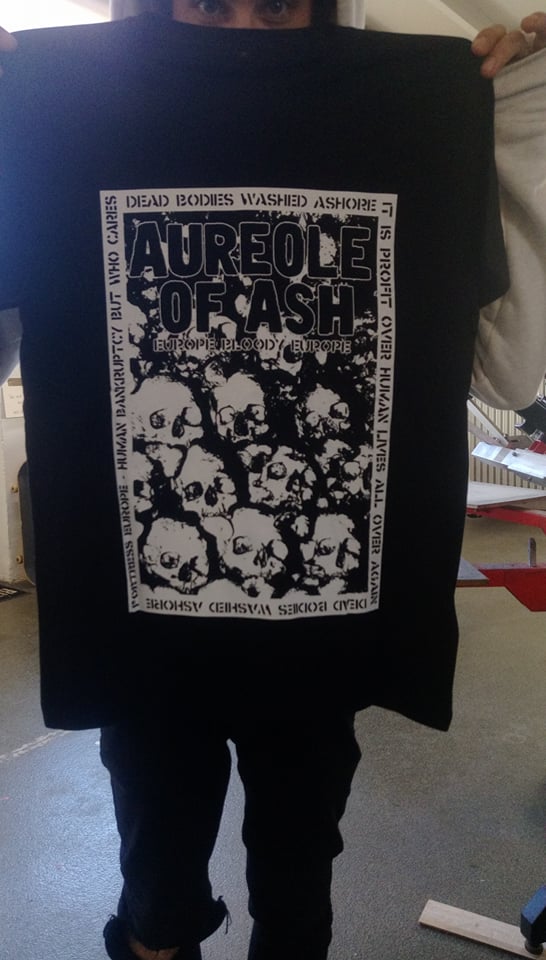 | | | |
| --- | --- | --- |
| llacuna | selftitled 12" | 10.00 € |
Fans of midwest emo bands and their precursors' sparse, melancholic, and passionate compositions (think RITES OF SPRING)
RECEIPT
2017-12-01

only 2 left !
| | | |
| --- | --- | --- |
| tano! | selftitled 12" | 10.00 € |
driving harsh and hectic emo / screamo with nice melodies.
RECEIPT
2017-12-01

only 2 left !
| | | |
| --- | --- | --- |
| yusuke / lori berensen | split 12" | 10.00 € |
A stunning one-sided split 12" from YUSUKE (us) and LÖRI (peru). 3 songs by each band of either spazzy/frantic emo-violence or screamy punk/hardcore, respectively.
BAND INFO
yusuke
RECEIPT
2017-12-01
only 1 left !
| | | |
| --- | --- | --- |
| ashkara | in silence 12" | 10.00 € |
ASHKARA features ex-members of long going switzerland Crustpunk institution CWILL and play down tuned and dark, atmospheric and moody HC/Punk or modern and slowed down Crustcore with a urge to sink you into a dark abyss... The use of a violin in most songs adds alot to the moody atmosphere and is a perfect addition for this style of post-punk/post hardcore or whatever you wanna call it.
RECEIPT
2017-10-08

only 3 left !
| | | |
| --- | --- | --- |
| limp blitzkrieg | Wypierdalać 12" | 10.00 € |
A new band from Warsaw with (ex-)member of THE FIGHT, BAGNA, DRIP OF LIES, THE STUBS - playing straightfoward Hardcore/Punk/D-Beat with a clear radical, antifascist and feminist message.
RECEIPT
2017-10-08

only 2 left !
| | | |
| --- | --- | --- |
| weak ties | selftitled 12" | 10.00 € |
Raging new Powerviolence band from bielefeld. features members from other quality bands like UNRU and Sømerset. WEAK TIES combine fast, '80s-influenced hardcore, thrashing blast beats, female vocals and urgent lyrics on there first album. 12 Track - 16 Minutes. Think of PUNCH vs. HOLY in Charles Bronson's garage! Oh Yeah!
RECEIPT
2017-10-08

only 3 left !
| | | |
| --- | --- | --- |
| die abete | senza denti 12" | 10.00 € |
noisy chaotic math-core-rock with two drummers . Ffo lightning bolt , botch
RECEIPT
2017-08-22

only 2 left !
| | | |
| --- | --- | --- |
| duct hearts | feathers 12" | 10.00 € |
by placing their mid-90's emo/diy roots into modern postrock soundscapes duct hearts create a mix that is cryptic yet simple, mysterious yet heart-on-your-sleeve, loud yet fragile, beautiful yet raw.
RECEIPT
2017-08-22

only 1 left !
| | | |
| --- | --- | --- |
| hvosch | thornsmoat 12" | 10.00 € |
Formed in Russia in 2013, HVØSCH is a vegan five-piece band from Saint Petersburg that combines elements of doom, post-metal, and black-metal to create an endangered atmosphere in order to impart their narrative. The band intertwines ambient instrumental passages with invasive blast beats and unwavering vocals to advocate for atheism and animal rights.
RECEIPT
2017-08-22

only 2 left !
| | | |
| --- | --- | --- |
| justin hate | marrow 12" | 10.00 € |
"The album may not be metal enough to satisfy the overlords at Metal-Archives, but it hits really fucking hard nonetheless. The opening track "Infantem" was the first single, released separately back in May, but remains my personal favorite — in part because of the big, craggy bass line that takes center stage briefly in the midst of the bleak, butchering riffs, the bone-breaking rhythms, and the vocalist's impersonation of a man being consumed by flames. The haunting, somber clean vocals that come in behind those wretched shrieks are another memorable touch. "Infantem", of course, isn't the only stand-out track on this powerhouse record. The whole ride is blacker than brain cancer and as brutal as the clubbing of harp seals on a barren ice floe, pitching between near-berserk levels of destructive violence and slower, more methodical applications of cold cruelty. The riffing is also cruelly addictive."
RECEIPT
2017-08-22

only 3 left !
| | | |
| --- | --- | --- |
| loia | nodo alla gola 12" | 8.00 € |
LOIA are Andrea, Camilla, and Stefano, and they come from Florence, Italy. LOIA will fuck you up. We've already been assaulted by this band's vicious music in the past, and now these Italian hardcore sociopaths are back with a brand new album of raging, blacked-out hardcore that will fucking destroy your life. "Nodo alla Gola" in Italian means "knot in your throat," when your nerves are so tense and your angst is so uncontrollable that you can't even swallow, you can't even breathe, and your fucking skull just feels like it just can't withstand the exploding emotions happening inside your head. This is the music of LOIA – an onslaught of blind, rabid rage made of blackened hardcore punk and crust that hits you like a fucking swarm of thorns, crashing through your eye sockets and passing through your skull with the brute force of a storm of bullets. Splintering shards of mauling powerviolence, echoing waves of Void and Siege-worshiping hardcore, crude and barbaric grindcore infested with black metal that separates flesh from bone with millisecond-long excavations of rage straight into the listener's flesh. This is LOIA – uncontrolled hatred, unadulterated bitterness, and suffocating chaos that will rip your life to pieces.
RECEIPT
2017-08-22

only 3 left !
Austrian band presents Post-Hardcore in the vein of Fugazi and These Arms Are Snakes.
RECEIPT
2017-08-22

only 1 left !
| | | |
| --- | --- | --- |
| maskros / kaji / astrid / this too will pass / a city sorrow bulit | split 12" | 10.00 € |
"A 5-Way 12″ split with 5 Bands and 5 Songs, done by 5 Labels. For all fans of capitvating and intense screamo/post-hardcore. Involved Bands: Maskros (Germany), Kaji (Singapore), Astrid (Singapore), This Too Will Pass (Germany) and A City Sorrow Built (Indonesia). 310 Records are made. Each comes in screenprinted sleeve, including a lyricsheet and a downloadcard."
RECEIPT
2017-08-22

only 1 left !
| | | |
| --- | --- | --- |
| notions | rorschach 12" | 10.00 € |
driven yet heavy hardcore with a math rock edge and some melodic bits
RECEIPT
2017-08-22

only 3 left !
| | | |
| --- | --- | --- |
| piri reis / they sleep we live | split 7" | 5.00 € |
farewell split for tswl - a last heavy melodic ride – intense fast and atmospheric. p.r. Is the latest emoviolence band from arwith / utarid. Rad!
| | | |
| --- | --- | --- |
| v/a time as a color | x 12" | 10.00 € |
"celebrating the 10th label anniversary this LP compiles 9 exclusive recordings by 9 bands that helped write the story of time as a color in the last years: carson wells nebraska bail lorraine coma regalia duct hearts kumulus grand detour terraformer records are housed in a hand-diecut plain off-white cover sleeve and black inner sleeves, include an inlay and download card and are handnumbered /309, 135 on green card (band copies), 9 on yellow card (first preorders), 16 on pink card (more preorders) and the rest on white card. I made the download cards of 30 years old cassette inlays my grandfather labeled with his typewriter for classical music he recorded from the radio. Apparently he's been a real diy guy I never understood back then."
RECEIPT
2017-08-22

only 2 left !
| | | |
| --- | --- | --- |
| decades/failures | goodbye 12" | 11.00 € |
A new offering, and vinyl debut, from Richmond's Decades/Failures. Darkwave, coldwave, post-punk... Whatever you call it, it's eight songs of raw and urgent loner pulse. A suite of songs that followed quickly on the heels of this year's previous cassette releases; the lauded "002" full length and "February 14th" single. "GOODBY3" finds Decades/Failures restlessly evolving beyond the claustrophobic dark-synth frameworks of previous releases, creating a more minimal, airy yet tense atmosphere. The sonic palette has expanded too, the variety of synth sounds are dazzling dark jewels, and a strident guitar cuts through much of the album, with dour nods to Wire and early Cure. This is in part due to the addition of new member Alexis Ivy, whom Decades/Failures' mainstay Adam happened upon while searching out ancient electronic albums in thrift stores. And though it is said there is strength in numbers, the feeling of utter dejection and defeat that pervades this album will soak deep into the bones of listeners. Just listen to the reverb-cloaked whispers amidst the panicked rhythms of theses songs and know that all is not well. And it never will be...
RECEIPT
2017-08-04

only 2 left !
| | | |
| --- | --- | --- |
| knife hits | eris 12" | 11.00 € |
Knife Hits features members of Backslider and ex-members of Khann and Republicorpse. Knife Hits play a killer style of music that incorporates elements of hardcore, punk, screamo, and grindcore. Musically, Knife Hits cite Orchid, Pg. 99, Loma Prieta, Converge, Hassan I Sabbah, Swarm of the Lotus, and Ampere as influences, which definitely shows up in the band's sound and style. Since forming in 2014, Knife Hits have releaseda four song, self-titled tour cassette in March of 2016. Eris is the band's debut full-length LP, which was released via Hydrogen Man, Dead Tank, and Give Praise records on September 16th, 2016. On Eris, Knife Hits offer up ten tracks of chaotic, volatile, and brutal as fuck sounding hardcore, punk, screamo, and grindcore.
RECEIPT
2017-08-04

only 2 left !
| | | |
| --- | --- | --- |
| rorcal | creon 2x12" | 18.00 € |
Us import . Slightly bend corner .Three years after the monstruous and blackened "Világvége", RORCAL is back with a brand new full length entitled "CREON". Again, this new beast is showing a different face of the band by the mean of 4 hellish tracks for more than 50 minutes of music. Furious, but also melodic, these new songs display a wild range of atmosphere, each one serving the purpose of an epic story. Yes, it's the death of 4 well known Greek characters, all linked to Creon, that are narrated in this new concept album. Punishing blast beats, heavy riffs, progressive structures expressed through brilliant song writing, possessed vocals ; everything is here reunited to create a new level of insanity in the field of extreme music. This 4th full length, recorded in three days in live conditions by Steph Kroug and mixed in Sweden by Daniel Bergstrand, is a journey nobody could have dreamed of. Let the magic do its job, let yourself drown in this beautiful and savage piece of aggression.  
RECEIPT
2017-08-04

only 3 left !
| | | |
| --- | --- | --- |
| weak wrists | selftitled 12" | 11.00 € |
" Asheville NC's Weak Wrists bring together elements of emo-violent swirl in the finest Orchid tradition, soaring post-metal passages that would make Old Soul proud, the textured and dynamic drums of Funeral Diner, and a bedrock of grinding filth with torn-throat female vocals for the Cloud Rat enthusiast among us. All these things weave and intermingle flawlessly and are executed with passion. "
RECEIPT
2017-08-04

only 1 left !
| | | |
| --- | --- | --- |
| wymyns prysyn | head in a vise 12" | 11.00 € |
This Atlanta trio totally nails that raw punk rock sound perfected by bands like The Wipers and Hot Snakes. Wymyns Prysyn take that approach and add a thick and twisted layer of noise to the mix, leaving just enough air for the underlying melodies to permeate through. The lyrics are bleak and misanthropic, and are matched by some sick guitar riffs that are genuinely eerie at times. Released by Drugged Conscience Records, whose name accurately conveys the overall feel of this record. Highly fucking recommended!
RECEIPT
2017-08-04

only 2 left !
| | | |
| --- | --- | --- |
| birushinah | Makyo 2x12" | 18.00 € |
Birushanah are a Japanese band who play music that has elements of epic doom, post-hardcore, frenzied grind, some out there jazz elements and a whole lot of other things all mixed up in their varied sound. Makyo is the sound of a band making noise on their own terms and doing it with a mixture of style and disorder.
RECEIPT
2017-07-07

only 1 left !
| | | |
| --- | --- | --- |
| mrtex / kelut | split 12" | 10.00 € |
"MRTEX is an project that consists of Chris Story (ex-Makara, Jenny Piccolo, Yaphet Kotto, The Anasazi and Anal Knievel) on...everything instrumental and David Norman (ex-The World That Summer) on vocals. This split 12"" is a mixture of songs recorded by Chris over the last three years that are assembled into a much more ambient and atmospheric mix when compared to the groups other releases. KELUT is, for lack of a more succinct synopsis, the next step for the majority of members from Yusuke. Gone are the pretty, noodly and more Saetia sounding sections, as the band goes apeshit here with five tracks of mind-numbing and ear-splitting screamy, dark hardcore."
RECEIPT
2017-07-07

only 3 left !
| | | |
| --- | --- | --- |
| plural beeing | demo tape | 4.00 € |
Plural Being is a Fort Meyers based band who formed in 2016. Plural Being features members of Merkit and Panzram, so going on that alone, you know you're in for some killer tunes. Plural Being play an ugly, raw, and blown-out noise damaged punk. This is the band;s debut five song demo cassette, which was released via IFB records on December 8th, 2016. On their debut demo, Plural Being offer up five tracks of killer noise damaged/off-kilter punk music that's an absolute must listen for fans of Throat, Brown Sugar, Milk Music, Slices, and other like-minded bands.
RECEIPT
2017-07-07

only 2 left !
| | | |
| --- | --- | --- |
| ruined families | education 12" | 11.00 € |
RECEIPT
2017-04-19

only 1 left !
| | | |
| --- | --- | --- |
| black table | obelisk 12" | 11.00 € |
Black Table are a four-piece band from New York that create their own take on experimental metal with a broad range of influences. The two-guitar outfit has been around since 2010 and played numerous shows across the United States including an extensive tour with Downfall of Gaia. With six years of existence under their belt, Black Table are thrilled to unleash their new monster OBELISK. In the whirlwind of chaos and complex rhythms that is OBELISK, atmospheric parts only leave you so much time to recover, before the frantic voice will send shivers through your spine over and over again. After Black Table successfully toured Europe in June, Moment Of Collapse Records (EU) and Silent Pendulum Reocrds (US) are proud to release OBELISK which is the second ever album after the band's 2012 debut Sentinel, in fall this year.
RECEIPT
2017-03-28

only 3 left !
| | | |
| --- | --- | --- |
| cranial | dark towers / bright lights 12" | 12.00 € |
"After arising from the ashes of the post-metal heavyweight Omega Massif in 2014, Cranial are now about to release their first longplayer "Dark Towers, Bright Lights" that combines 45 minutes of thick and heavy sludge and doom. When the four members of Omega Massif split up, their musical future was vague but soon Phantom Winter, Blacksmoker and lastly Cranial came to life. For the latter, Omega Massif's Michael Melchers (guitar) gathered Julian Weidhaus (bass and vocals), Cornelius Merlin (drums) and Sebastian Kröckel (guitar and vocals) to work on the fi rst material which was later recorded by Tobias Anderko in his Blank Disc Studio. The two songs were mixed and mastered in the Tonmeisterei in Oldenburg and later released as the band's first physical release. The "Dead Ends" EP came out in the end of 2015 via Moment of Collapse Records on CD and tape, while the vinyl version's appearance was enhanced with a screenprint on the B-side, a printed innersleeve and an inside out cover with a die-cut logo. The EP was highly praised by the international press which enabled the band to play the Droneburg-Festival among several other festivals and shows. In the summer of 2016, Cranial then booked the Tonmeisterei for a week to record the EP's successor "Dark Towers, Bright Lights" with Role Wiegener. Similar to the "Dead Ends" EP the four songs on "Dark Towers / Bright Lights" are gloomy, heavy and abundant with a threatening atmosphere. When there is a leitmotif on Cranial's latest release, then it is a muddy and bloody plow that draws relentlessly through everything that gets in its way! This beast of an album leads the listener through an almost cinematic dramaturgy by stacking soundscape on soundscape. In the face of these sonic monliths, the tension becomes almost unbearable. Only then Cranial crush them to ruins just to repeat the procedure. Again and again with no time for relaxation. With that "Dark Towers / Bright Lights" is highly recommendable for fans of Neurosis, Isis, Cult of Luna and the likes."
RECEIPT
2017-03-28

only 2 left !
| | | |
| --- | --- | --- |
| autism | film noir 12" | 11.00 € |
"AUTISM is an instrumental Post-Rock/ Post-metal band from Vilnius, Lithuania. The band say this about this record: ""This album, sharing the same name as a cinematic genre, is driven by a mood of pessimism and menace. While working on this album, we decided to explore even more disturbing and uncomfortable topics. Alcoholism, drugs, physical and psychological abuse, manipulation…it is all a part of our everyday life. We have used real samples of some actual tragic life events to create a greater emotional impact to the listener and make him aware. This is not a casual album to listen to, but we believe that "Film Noir" will succeed to deliver the message we wanted to communicate."""
RECEIPT
2017-02-24

only 2 left !
| | | |
| --- | --- | --- |
| antifaces | solo quedan fantasmas 7" | 5.00 € |
Latino punk outta Miami in the vein of Eskorbuto, Suicidas, or Tozcos. It hits that sweet spot of a perfect mix of melody and grit, with a bass heavy mix that hits hard, especially when the stomp kicks in. Duelling female/male vocals are all in Spanish and range from proper singing to pure punk filth. Members hail from Merkit and Nunhex.
RECEIPT
2017-02-01

only 3 left !